Shary's book, "How to Rock the World When You Get Rocked", is for anyone seeking a new kind of approach to achieving ultimate healing, wellness and joy after you've been dealt life's hardships.
This book goes against everything you think you know about stress management and is, quite simply the most effective and practical life guide in manifesting your dreams, overcoming fear and anxiety, and ultimately achieving harmony in life.
While a book, How to Rock the World When You Get Rocked is like having Shary as your very own personal coach. Instead of struggling to understand how you too can experience ultimate joy again, Shary reveals step-by-step best practices that will inspire and steer you towards success.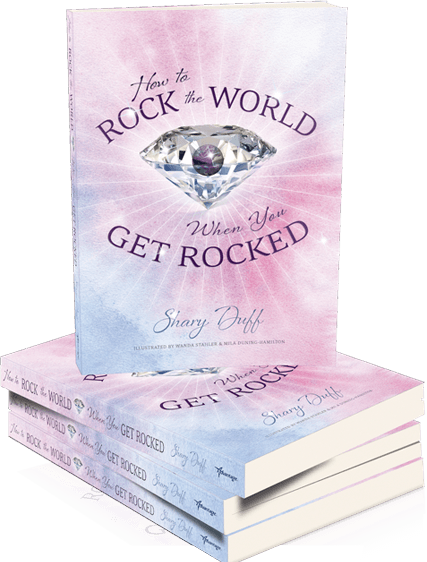 "Shary generously shares her personal experiences and the lessons she learned along the way in an easy to follow style, allowing the reader to be on the journey with her. The illustrations compliment the written word beautifully. This is a great read for every woman as well as a supportive gift for a friend who may be going through a difficult time."

"This book is a life saver!! Shary Duff is able to put help the reader understand how devastating personal circumstances can be overcome by everyone. It is inspiring and easy to understand as you move through the steps to a deeper understanding of life events! Thanks Shary! This is a must read for everyone!!"

"I had been praying for quite a while now for help to heal and find peace. I had lost my connection to my soul after a very challenging accident, it was difficult to find my way back to peace, love and joy again. Your book, How to Rock the World When You Get Rocked, was the answer to my prayers. Thank you!"